If you are considering the installation of a new asphalt shingle roof on your home, you landed in the right place.
Here are thing's to consider when searching for your new roof:
The different types of roof shingles
Various color options with roof shingles
What shingle hail damage looks like
How to select a shingle roofing contractor
Let's Get Started.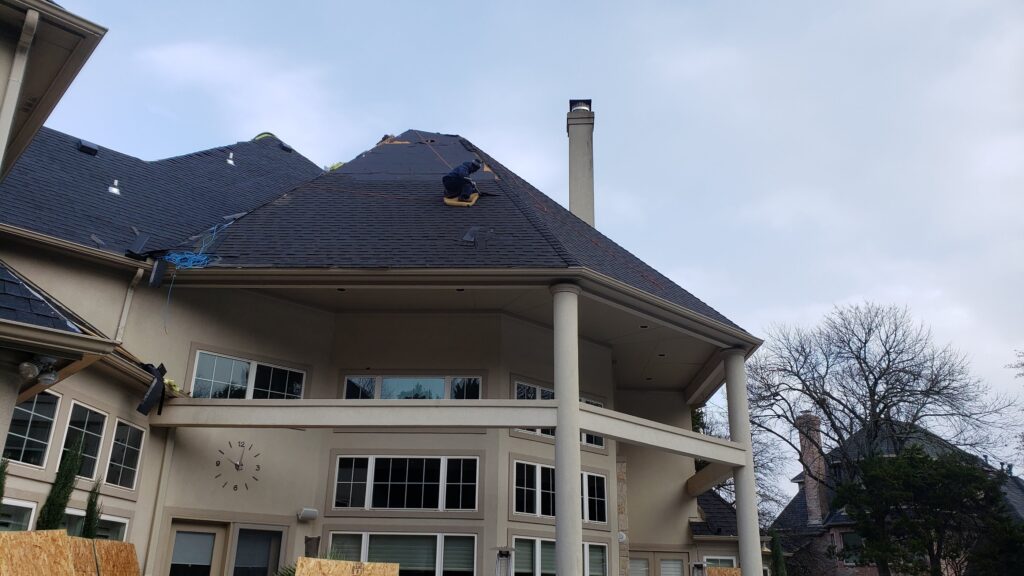 what are asphalt shingles?
Asphalt roof shingles begin with a continuous fiberglass "mat" that creates strength and tear resistance. Fortified hot asphalt goes through a strengthening process, where it is "oxidized" by blowing hot air through it to increase its viscosity and firm up the material. This roofing asphalt is then bonded to the top and bottom of the mat layer to form a waterproof barrier. Finally, crushed and screened granules are embedded into the top layer of asphalt, offering a layer of protection from heat damage, UV rays, and degradation – while providing the shingle color & shading that you see.
A complete asphalt shingle roof system includes the following engineered and professionally-installed components:
Attic insulation
Roof decking
Ventilation system
Ice & water barriers
Underlayment
Starter shingles
Roof shingles
Hip & ridge shingles
Gutter / drainage system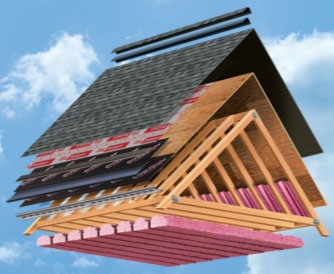 what hail damage to the shingles looks like
Architectural Roof Shingles
Architectural roof shingles (also known as dimensional or laminated shingles) are manufactured in a variety of style and color choices. Architectural roof shingles are stronger and more durable than 3-tab shingles when it comes to wind resistance, and most offer longer warranties. Homeowners choose architectural shingles because they look great and can mimic several different styles of roof coverings (like wood shake, tile or slate), while saving cost for materials and installation labor.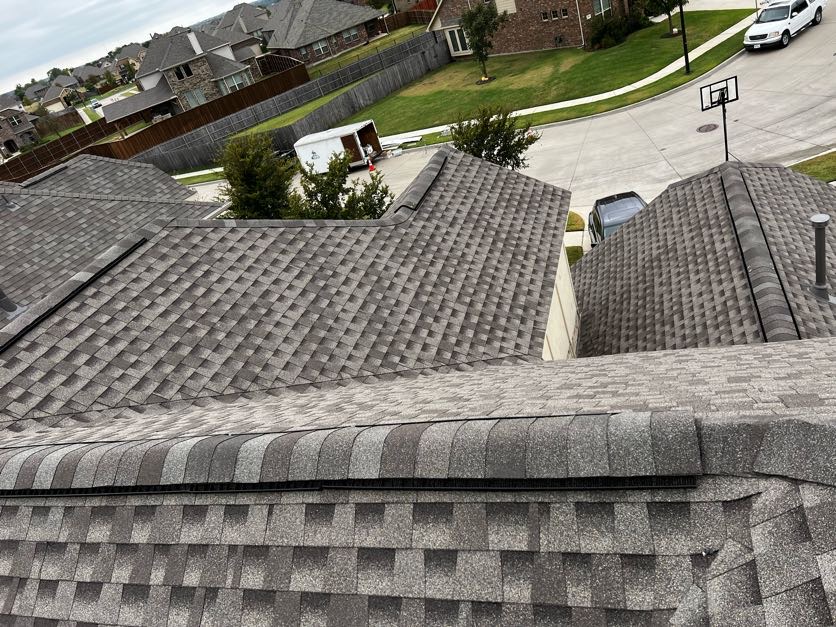 Today, homeowners have more roof shingle choices than ever. Recent advancements in asphalt shingle design has bred an entirely new category of architectural roof shingles.Designer shingles are a premium roof shingle option. These designer roof shingles are made to look similar to wood shake, scalloped slate, tile or other old-world roof designs that can give your home a uniquely crafted look.
Here are some different styles of shingle
Some premium asphalt shingle roofing systems now offer a 50-year warranty. Considered a "best" shingle option, when considering "good" – "better" – "best" options, 50-year shingles use upgraded materials of construction and are heavier than standard architectural shingles. Quality installation on a 50-year roof is vitally important. Many roofs fail early due to improper installation, poorly designed ventilation, or lack of design for wind or weather. Experienced, professional roof installation by a certified installer is critical (and required by manufacturers) to qualify for a 50-year shingle warranty.

Asphalt Shingle Manufacturers
MD Roofing installs only the best asphalt shingle roofing systems from the nation's top manufacturers. While we work regularly with the manufacturers below, we also provide shingle roofing systems from several other shingle manufacturers. If you need a specific type of asphalt roofing product, just ask. Other asphalt shingle manufacturers include: TAMKO, IKO, Firestone, Malarkey, John Manville, Atlas & others.
click logo to view gallery
Guarantied by the manufacture
As a Certified Roofing Contractor for multiple manufacturers, MD Roofing offers warranties up to 50 years on asphalt shingle roofing systems.
How to Select a Roofing Contractor
While many companies offer roofing services, you need to be careful when selecting a professional roofing contractor. Quality shingle roof installation requires an experienced roofing contractor. If you're looking for a long-lasting roof, you will want to employ the services of a highly-experienced roofing company, familiar with local roofing requirements. Look for a roofing contractor with the following qualifications:
Is licensed, bonded, and insured
Experience installing your type of shingles on multiple projects
Experience managing staged roofing projects that may require parallel tear-off and installation
Experience working with insurance companies on damage claims
An experienced roofing contractor can help you avoid leaks and major problems and provide a roofing systems that lasts for decades.